There was a big turnout this year for Anzac Day all across the Mornington peninsula. Nearly 3000 people turned up to the Rosebud RSL Memorial service including over 250 to 300 World War II veterans. It was great for the older folk to educate the young ones on what war was about and what it meant to fight and die for this great country.
About 700 people joined Hastings RSL at its dawn service and more than 1200 came along to the main service at 10.30am.
Emcee for the day's events Ken Black said RSL members marched down to the foreshore where the main service took place.
"We also had a fly pass put on by the air force (Tyabb airport) and the Australian male Welsh choir sang hymns and World War I songs," Mr Black said. "We're already thinking about plans for the next year's events."
Mornington RSL marked the day with a dawn service at Memorial Park followed by a breakfast at the club.
President Ian Bates said more than 1600 people attended the dawn service, about 300 members joined the club for breakfast and about 2000 people turned out to the main service.
"It has been a busy day and well attended," Mr Bates said.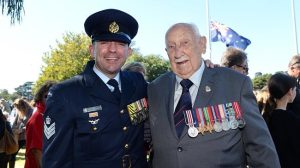 Rosebud RSL Anzac Day service attracted a large crowd of veterans and young families who enjoyed the service under perfect blue skies. For local RSL members such as Fred Rossborough, right, it was a chance to catch up with current day servicemen including Michael Horner. Fred seved with Michael's grandfather, Jack McKenzie in New Guinea and on Bougainville. Source: News Corp Australia
Huge crowd for Mentone, Chelsea
PEOPLE have turned out in their thousands in Mentone and Chelsea to pay their respects on Anzac Day.
Ice cold temperatures this morning weren't enough to deter about 2000 people showing up to both the Mentone RSL and Chelsea's Longbeach RSL dawn services.
Longbeach RSL president Michael Weissenfeld said many community groups attended, resulting in more than 100 wreaths being laid at the Chelsea cenotaph across the dawn and morning services.
"We had a huge crowd at the dawn service and the turn out for the morning march of a few thousand was just phenomenal," Mr Weissenfeld said.
Mr Weissenfeld said the morning march had been led by Chelsea's Tom Deveson, who has served recently in Afghanistan and is a member at Longbeach RSL.
"All of Tom's family was here to support him, and they're very proud of him, as well all are in Chelsea," Mr Weissenfeld said.
"Unfortunately a lot of Afghanistan veterans have had trouble reintegrating into the community, so we make sure we encourage him and others to become involved in the RSL."
The Mentone RSL dawn and morning services, which both attracted about 2000 people, benefited from the newly revamped Mentone Memorial Gardens and a newly installed honour roll.
Mentone RSL secretary Bob Tyler said the works to the gardens were "absolutely fantastic".
"You really couldn't have hoped for it to be any better," Mr Tyler said.
"People have said it has made them motivated to come to the gardens more often."
Thousand remembers at Hampton
ON THIS cold, crisp Anzac Day morning at Hampton RSL, nearly 1000 Baysiders chose to pay their respects to those that those that had paid the ultimate sacrifice.
Led by chaplain Graeme Disney, the sombre mood at the Holyrood St cenotaph reflected an admiration for the thousands who never returned from war duty.
Mr Disney spoke of the history of the Anzac legend, and how it still applied today.
He told of stories of two young corporals, who dedicated their lives to their country nearly 100 years apart.
One soldier wrote a letter to his mother the day before being sent to Gallipoli in 1915, stating he was there for the greater good and not to worry about him.
Another was a soldier who bravely diverted enemy fire in Afghanistan just last year, dying to save his mates. He was awarded a VC.
Both never returned to their families.
A young trumpeter sounded the last post, and despite looking a little nervous, performed admirably. He was acknowledged and applauded by his audience afterwards.
The service, preceded by a scores-strong march, was followed by an Anzac breakfast for hundreds that wanted to stay and chat.
Others drifted off to their homes or to the Shrine, with thoughts in their minds of those that could only be there in spirit.
Channel Ten program The Project recorded the service and stayed on to film veterans remembering and reflecting upon their annual commemorative day.
Source: http://www.heraldsun.com.au/leader/bayside/were-out-and-about-bringing-you-all-the-anzac-day-news-from-across-the-mornington-peninsula-and-bayside/story-fngnvli9-1226895690615